About the Show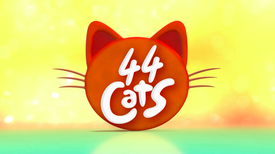 44 Cats is an animated series inspired by the Italian song "44 gatti". It stars a group of cats called the Buffycats: Lampo, Milady, Meatball, and Pilou. The show is produced by the Rainbow Studio, which is co-owned by Viacom. Viacom's Nickelodeon channels broadcast 44 Cats worldwide.
Welcome to the 44 Cats Wiki
Meet the Characters
Click on a picture to go to the character's page.
Featured Episode
Coming soon