Jurassic World: Dominion Dominates Fandom Wikis - The Loop
Play Sound
Friends/Siblings
Lampo has a good relationship with Milady and are like twin siblings to each other as although they have different personalities and looks, they share the things they have in common in "Dogsitter Adventure", they will do anything they can to keep Pilou and Meatball from fighting like older siblings do. Although, some fans believe that Lampo has romantic feelings for Milady, but it has not been confirmed yet.
Status: Best Friends/Love Interest/Neutral (Before May the Best Cat Win, Santa's Little Helper & Pilou and the Scooter Chase)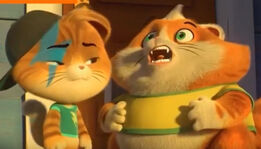 Meatball and Lampo are best friends and have a brotherly relationship with each other. Although, Lampo does get slightly annoyed by Meatball's cowardice, immature behavior, his overreacting over things, and even his temptation to eat like the rest of the Buffycats, but still loves and cares about him deeply.
Status: Brothers/Friends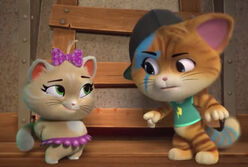 Lampo and Pilou have a good friendship with each other and he, along with Meatball and Milady, treat her like a little sister as they sometimes watch other her. He also appreciates her help on when trouble comes to them and their friends, plus he, like the other Buffycats, they approved of her amazing drumming skills when they practice and play for a concert.
Status: Friends/Siblings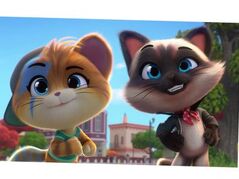 Igor and Lampo are best friends and have a good relationship with each other.
Status: Best Friends/Wingman
Family
Archibald is Lampo's uncle who disapproved Lampo's behavior and appearance, much to Lampo's dismay as it is ruining the Buffycats' concert, but then Archibald's eyes opened to the truth when the crowd started booing at the change of the Buffycats' music and instruments.
Enemies/Rivals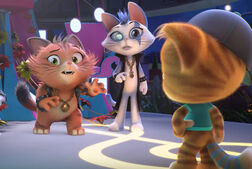 Lampo hates Boss very much and has a strong rivalry with him. However, Lampo always beats him at the end, they often participates at contests, and their rivality always is very much.
Status: Enemies